Hmm, Friday the 13th.
Actually, that's usually a good day in my family and so it is today - my luggage has finally arrived! Oh, the joy of using my usual toothpaste - relegated to the hold baggage by security restrictions, along with shampoo and moisturiser- little things gain unexpected significance.
We open to the public at the tent in Place Broglie at 10.00 am, and it's pretty constant from then on, with troops of visiting school children until lunchtime, followed by families in the afternoon and early evening. Our activities for this day, and the rest of the weekend, are constructing paper trees using only four A4 pieces of (recycled) paper and scissors- '
pas de scotch, pas de colle'
as I grow used to explaining - and making 'Highland Stags' from newspaper and tape - papers cannot be cut or torn, and the tallest is the winner. All deer should have antlers, ideally branching, and both trees and stags should be free-standing. It's an exercise in strength of construction, in counterbalance and cross-bracing, in planning and thinking through a design, and in the subsequent execution. We also relate it to the actual living things, to the shape and structure of a tree, with the roots to hold it up and a strong trunk, and to the way a stag has a strong neck to balance the spread of the antlers. Simple materials, simple ideas, and more complex than it appears. It's a far cry from much of the other stuff that's going on at the fair - we are next door to a wonderful solar-powered oven, designed for use in Central Africa to reduce the deforestation for fuel, and opposite us, something looking at all the things that cause pollution in homes - there is a particularly disturbing picture of a dust mite! There are stands promoting solvent-free glues and mastics, medicines, and to be quite frank, a lot of stuff that is beyond my dodgy translations! Much of the 'hands on' involves looking at pictures, down microscopes and doing quizzes, as far as I can make out. Which makes us even more of an oddity!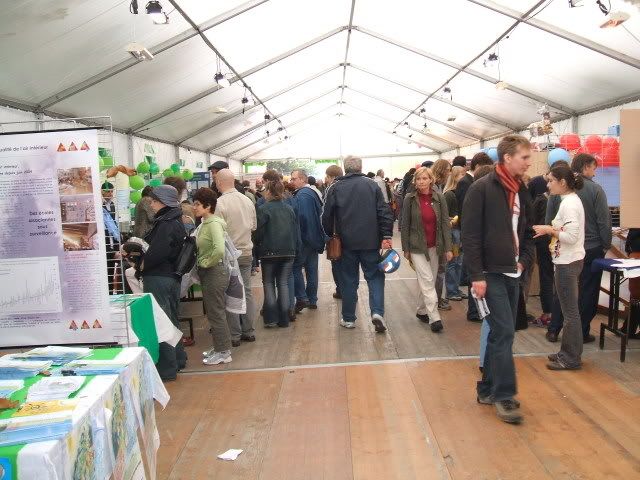 We are constantly asked what we are doing, how and why is this science, and when we explain, it's like a light-bulb going on - teachers in particular want details of the activities to use for themselves.
Our fragile French is bolstered by the arrival of the inestimable Eric. He is serious, meticulous, and dedicated to correcting our linguistic mistakes.
He's also great to have around - our explanations to visitors are often punctuated by cries of 'Eric, what's the word for…' and he's utterly unflappable.
Lunch is taken on the run - Liz dives out to the bakers for baguettes - and the paper forest grows steadily.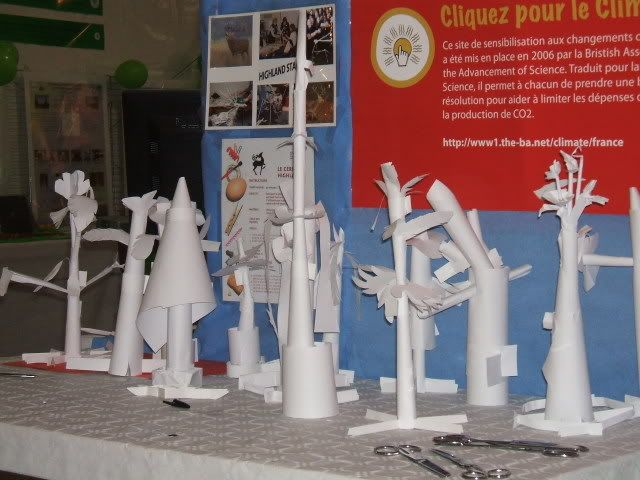 Outside, the herd of stags is also growing, much to the amusement of passers-by and the security man, David, who shakes his head in gentle Gallic derision. Lucy is brilliant at conveying what to do by means of a broad smile and one-word exclamations. '
Voila! Formidable
!'
'Say it with conviction' she says '…and you get away with a lot!'
The solvent-free glue man is entranced, and brings offerings of apple tart. I can't resist having a go at building a stag of my own – he's not the tallest of beasties, but quite stable and not a bad-looking lad, if I say so myself!
The trees seem to be the favourite of the smaller children, whist the adolescents - and later, adults - seem to enjoy the stags, often competing between groups to see who can make the tallest. Liz and Lucy are kept on the hop measuring and recording, and awarding prizes. I go between activities, taking pictures and updating the rolling slideshow - the projector fails utterly, so we have two laptops constantly showing pictures from the activities in Scotland and in France. In between cursing the vagaries of technology under my breath, I help out Annette and Eric with trees. In the middle of the afternoon, Annette turns into Joanna, also from the BA in London, a running handover punctuated by tree building. Joanna bravely dons the red t-shirt we all wear as 'uniform' (we look like a mis-matched punnet of tomatoes) and dives in.
In a similar vein, at 5.00 pm Eric turns into his sister Delphine - or rather she takes over the shift - she's bouncier, less serious, and quite an artist in her own right - she has to have a go at making a paper tree - with astonishing results.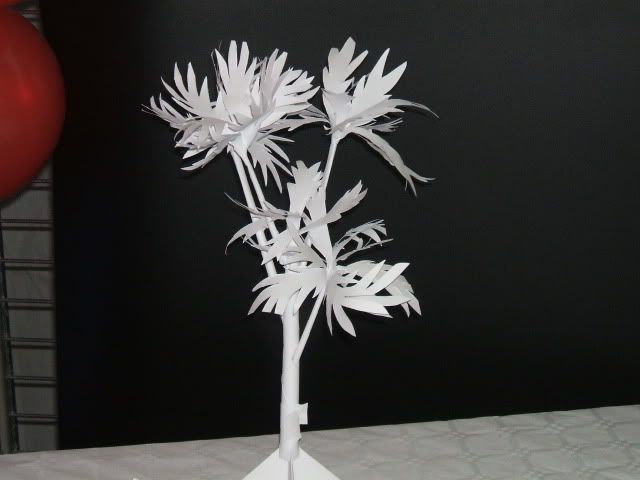 Suddenly it's 7.00 pm, and it's over for the day. We stagger as far as the café next to our hotel for dinner, and at some point before we collapse into bed, Lucy comes up with the title of tomorrow's diary entry…….