Yes, well…before this year's holiday overtakes us I reckon I'd better finish writing about last year! Where were we?
Oh yes, moored up at Llangollen, listening to Barbara Dickson…
8 July. Next morning saw a shore party heading off into the town to have a look at what was happening – dancing in the streets, and plenty of music. Back on the boat, the sounds of the Eisteddfod drifted across from the festival ground, all the international competitors taking part in the various competitions. The horse-drawn barges clip-clopped past on their way to the waterfalls, and the day was spent just chilling out, and looking at where our boat might take us over the next week or so.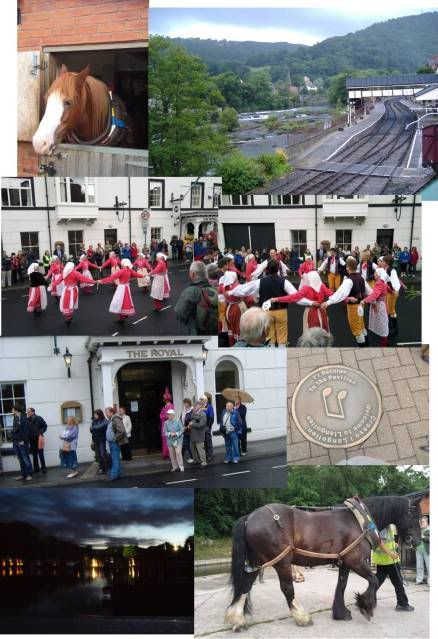 round the town, and the horse-boats
9 July. Another high-in-the-sky day, with the excitement of crossing the aqueducts again. One thing about doing an out-and-back route instead of a circuit is you get a second chance at the photographs… there was the usual throng of boats at Trevor, though fortunately not so many dayboats causing chaos, and we waited to get into convoy across the Pontcysyllte. More tunnels and the Chirk aqueduct, and we were back to locks and an over night stop (and dinner) at the Jack Mytton pub.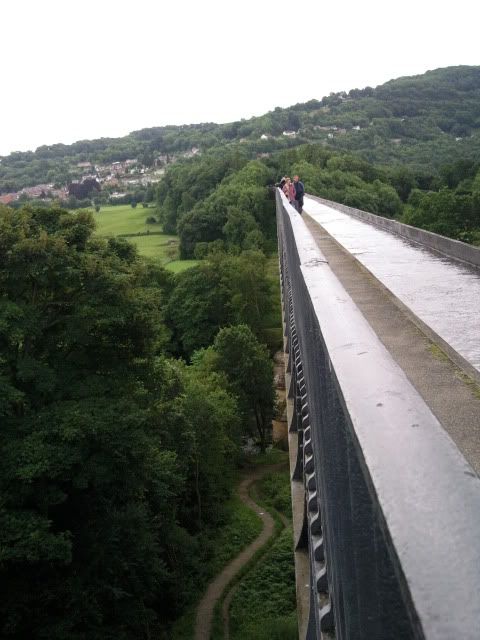 on the Ponte (Drew)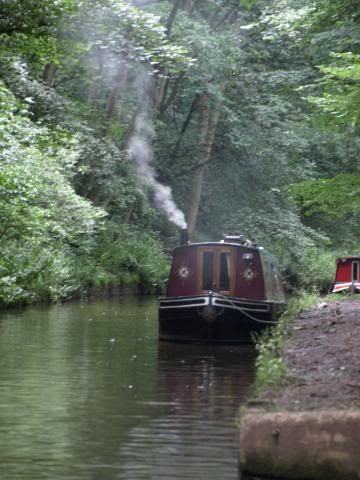 between the tunnels.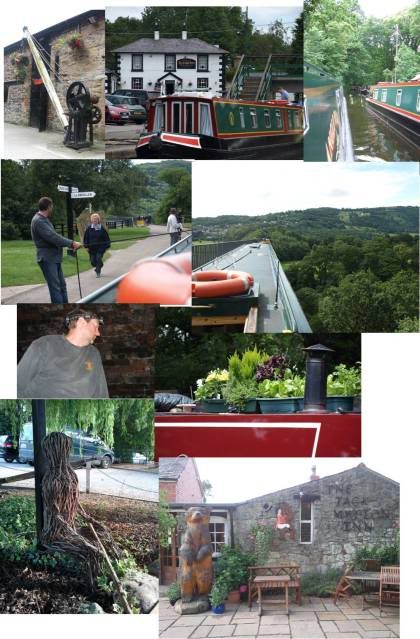 10 July. The main aim of today was to get a pump-out. (Oh the romance of boating!) We found a helpful boatyard at the Blackwater Marina, and once that was done, took a side-trip up the Ellesmere Arm for some lunch and to replenish the stores. The highlight was Vermeulens' Delicatessen, which provided a wonderful selection of delights; we'd recommend anyone taking the trip to make appoint of stopping and shopping! Drew made a very elegant three-point turn of the boat up by the new wharf (much to the disappointment of the gongoozalers on the bank) and we headed off again, through the open farmland and mosses to our overnight mooring at Grindley Brook, ready to tackle the staircase in the morning.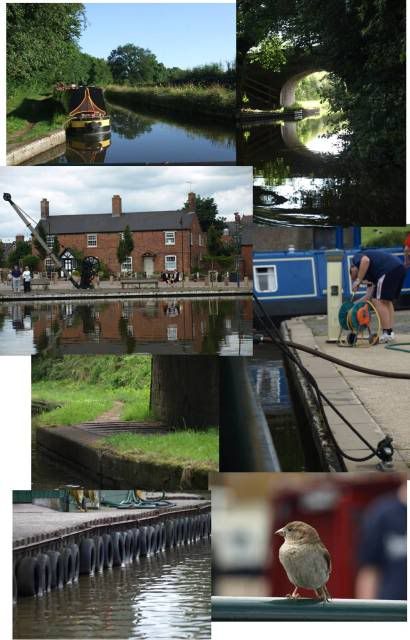 Ellesmere and around
11 July. Tonight finds us back at Hurleston Junction, in almost the same place as we spent our first night, planning new explorations. Farewell to the Llangollen Canal. We've got almost another week, and we've covered the ground (or water) we'd planned to do – so where now? We've done the countryside – how about some urban landscapes for a change?