Sunday morning found our visitor back, looking for breakfast. It's not easy eating porridge under that watchful eye……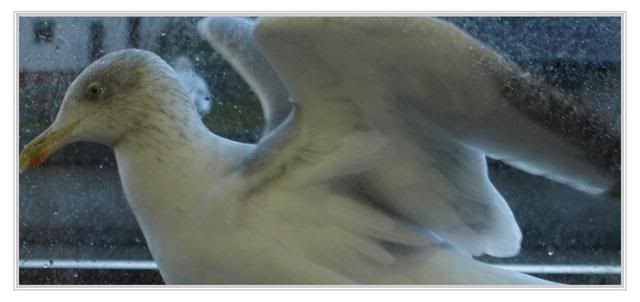 South today, all the way down to Sumburgh. The main airport for Shetland is set in a low-lying, soggy and sandy flatland below the rise of Sumburgh Head. To reach the very south of the island, you have to drive across the end of one of the runways – interesting. Especially when a plane comes over your head…
The airport electronics also had a weird effect on the car – fortunately we were stopped at the time – the engine cut out, the trip meter reset itself…baffled, we paused at Grutness, where the ferry to
Fair Isle
departs (and there are some fond memories there!), in a squall. The locals didn't seem too impressed with the weather either…..

No further interruptions to the running of the car, and we head up towards the lighthouse. The car park is below the lighthouse itself, with a clear drop to the sea just over the wall. The sea is rough, snow squalls are followed by bursts of bright sunshine, and the wind harries the fulmars and gannets along at a great rate.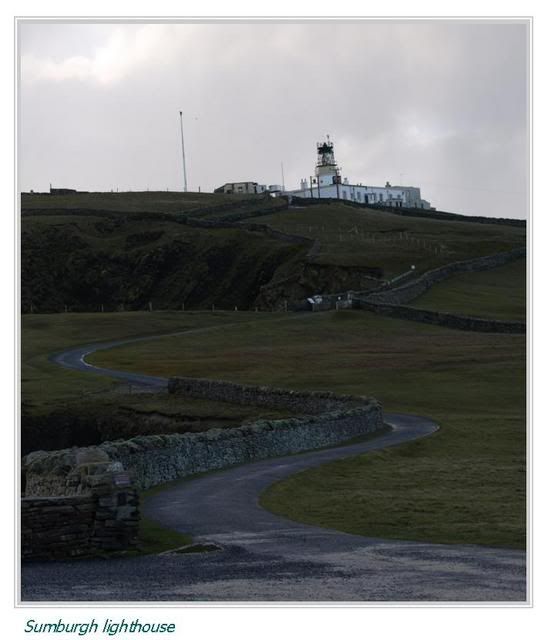 The lighthouse, in spring and autumn, is a wonderful place to see migrating birds and the seabird cities that fill the cliffs of the Head, but in winter, there is little around and we head north again, via the dune lochs of Virkie and Spiggie, the mill at Quendale (shut for the winter) and the western coastal route to
St Ninian's Isle.
The island is joined to Mainland by a tombolo – a thin sand spit caused by tide and current. The waves run along the sandbar, breaking tops white and misty, whipped by the wind.

We stop for lunch near Maywick, and look up from divvying up the sandwiches to see a wall of whiteness coming up the road towards us; in a moment we are engulfed in a hailstorm, pellets of ice bouncing off the bonnet of the car and hammering on the roof until we can barely hear. Moments later it has gone as fast as it came, heading southwards. The old line is true – 'if you don't like the weather, wait a couple of minutes and it'll change.'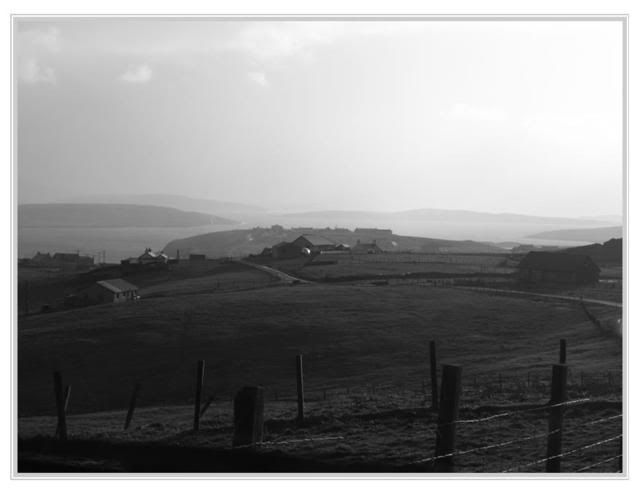 We spend the afternoon investigating the small, causeway-linked islands of Burra, and the end of today's trip takes us to Scalloway, the second town of Shetland, home of the maritime college and the wartime
'Shetland Bus.'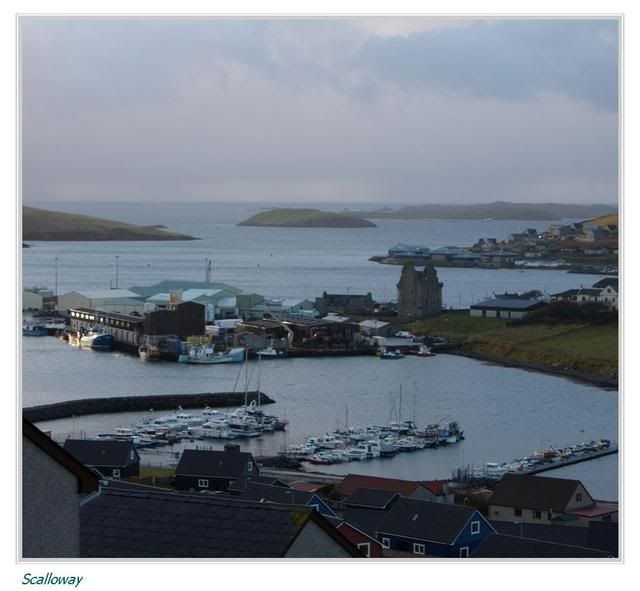 The light is fading fast, and we head back to Lerwick.