Day Thirteen: 15 July. Coventry to Brinklow.
Drew went off to look at the centre of Coventry and the Cathedral , leaving Mum and me to sort ourselves out leisurely. Rain again, and very windy, which made getting out of the basin a somewhat awkward process, with a lot of backing-up. Not helped by what we found when Drew went down the weed hatch by Electric Wharfe and untangled what looked like a shirt and shorts, several bits of net and a whole heap of weed from around the prop. Oddly enough, Jupiter ran so much better afterwards, though she may have added to her collection going through the mess under Bridge 4...
Moored at bridge 8 for a Tesco trip and the rain began to really hammer down at around 1400; I began to think the shore party may be drowned. But at least we didn't have a 'distracted by rat -
bump
' moment today (so far!). Soggy shore party returned eventually, and the weather improved for a while as we went back to Hawkesbury Junction, trying to get pictures of the various artworks along the canalside. Hawkesbury's attractive but a bit complicated, though Drew did a fine job of negotiating it, and got into the lock - which is a stoplock with a rise/fall of about 6 inches! Lots of interesting canal architecture - the old Engine Shed, and lovely ironwork bridges. Chatted to folks who were on a lock-free holiday and were checking out the how-to of it.
After a late start and the shopping, we made it to Stretton Stop by Brinklow, and moored up on the towpath - first time we've used the mooring pins this year - and Drew managed to find unpleasantness underfoot in the overgrown verge. Sleep to the constant rattle and whoosh of the trains on the adjacent line.
1 lock/11.5 miles/0 tunnels/Coventry Canal, Oxford Canal.
Day Fourteen: 16 July. Brinklow to Braunston Junction.
Not a bad night, considering the trains and the occasional downpour, but the loud and over-excitable Jack Russell in the next boat made us keen to get away.
The first hazard would have been the swing bridge at Stretton, but that was open - the gap being filled by a bloke who had racketed past us earlier and was now dead in the water with a prop jam that he couldn't clear. Eventually he towed his boat round into the adjacent yard to let the traffic jam clear - which meant we didn't have to stop to shut the bridge!
Then it was through the vastly unstable Brinklow cutting - dead slow required to avoid any bank wash, as the whole place looked ready to slide downhill into the canal. We were on the lookout for somewhere to get a pump-out; most marinas were pretty full and/or inaccessible, so it was onward, ever onward, through sun and showers and blustery wind.
Newbold Tunnel was a delight - they've put coloured lights in it which show up the flowstone formations. There are supposedly bats, so they switch off at sunset...I'm not sure about the logic of that!.. it was all very pretty, so we stopped and Drew went back to take more photos.
Then we scurried through Rugby - nice sporting murals under the bridges, but again nothing much in the way of real industrial architecture. Couldn't get into Clifton Cruisers (inconsiderate nerd taking up
all
the service space to refuel) so on, to Hilmorton Locks. Like Sawley, these come in pairs - two locks, no waiting! Things fell pretty much right, so it was a quick ascent, and Drew got to try the 'stick the nose on the gate' technique.
Past the aerial farm (it used to transmit the time signal), and through rolling farmland marked by extensive ridge and furrow - some so deep that the sheep could shelter from the wind in them. There were some odd antics amongst the cows... and why are nearly all the horses black and white?
Coming into Braunston, the boats were double-moored, putting the lie to Pearson's claim that there were usually plenty of moorings! We're not even at peak holiday time, and it's full of boats. There was a tight turn by the Junction bridge, and a lot of slow manouevring trying to see if we could get into any of the small places - naturally, not possible. Everywhere we found was just past the end of permitted moorings, or at a waste station, or water point, so we made use of the latter, and Drew nipped into Braunston Marina to check out pump-outs. This was perfectly possible, hoorah, so with a dint of fine manoeuvring we went under the bridge into the wharf, to find someone else had just slid in ahead of us (to empty an Elsan, for goodness sake - don't need to take up the pump-out space to do
that
) so we pulled in alongside - and the heavens opened. Once the other boat left, Drew went to do the negotiating. I had a bright idea for once - rather than face the lock flight and tunnel before we could get to a mooring, which was the option - why not see if we could moor at the marina? Again, this was perfectly possible.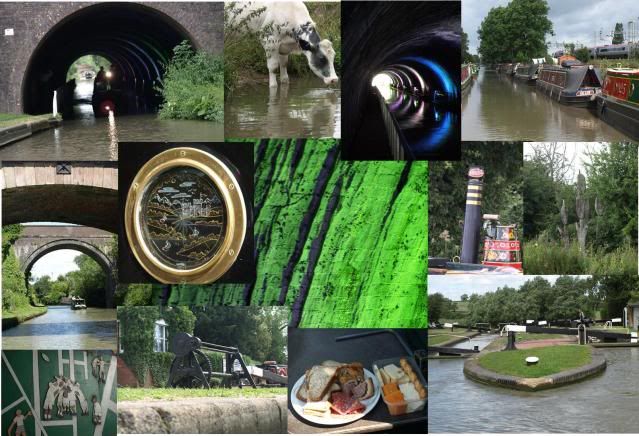 Drew now got promoted - he is now Grand Panjandrum, King of the Kharzi - as another new holiday experience happened; our first DIY pump-out! Smelly, but not messy, is perhaps the best way to describe it.
Then there was another bit of fine boat-handling to get us into our berth for the night, after which he celebrated by going to the pub for a beer and free WiFi. Mum and I read and relaxed, and enjoyed another heavy downpour complete with thunder and lightning.
3 locks/15 miles/1 tunnel/Oxford Canal, GUC Main Line/pumpout.